Alicia L's Orbs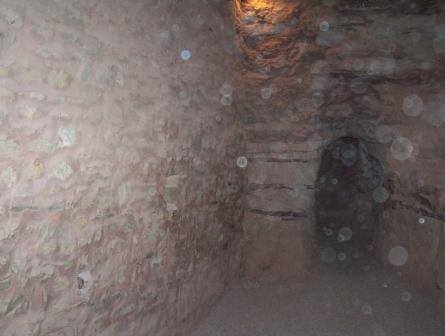 Experience description:
My fiancÚ David and I vacationed over the weekend in Colorado Springs, CO and one of our stops was the Manitou Cliff Dwellings in Manitou Springs. I had never been there before, and I was really excited to go. We started at one end of the cliff dwellings and was working our way through all the rooms, trying to take in everything that we could.
Shortly after we began exploring, we walked into a small room. All of a sudden I became very frightened. I did not know why, but I did know that I wanted to leave the room as soon as I could. The sign pointed out that this room was for storage and trash, but David immediately rejected this interpretation and swore he thought it was something else. There was a speaker in the corner of the room playing the voice of an Indian (sounded like prayers), which was strange because the speakers throughout the rest of the dwellings had Indian flute music playing. What a weird room to be playing something completely different!
Anyway, I was hurrying to leave the room when David insisted on taking a picture. I thought that was silly considering this was not an impressive room, but I waited while he flashed the digital camera. All of a sudden he acquired a confused look on his face. He lifted the camera and took another picture of the room. Still confused and ignoring my inquisitive look, he turned around and took a picture of the other side of the room.
Finally I questioned what it was that he was doing, and he informed me that there were strange circles in the first two pictures, but not in the one he took pointing the other way. He was photographing a doorway out of the room, and by this time I wanted to leave NOW. I was scared out of my mind and I did not know why. I was probably more scared to go through that doorway, but I had to to get out. We left and continued to explore the dwellings. Nowhere else did I get a weird feeling that day. All the other rooms in the dwellings were exciting to be in. It was just that one room that shook me to the point that I had knots in my stomach and I did not want to be alone.
This one room was the only place that the orbs showed up. Notice that even though the light source is above, it doesn't affect the orbs. Therefore, this phenomena couldn't have been caused by light. Also notice that there are orbs within orbs. I believe that this was a place where there were a lot of Indian souls.